AP Machinebouw is specialized in the development and construction of agricultural machines, irrigation machines and road construction / earth moving machines. We consider quality of paramount importance. With an enthusiastic team of about 50 colleagues we build the machines from the beginning to the end in our building after which they are transported all over the world. Our ultramodern building is equipped with two fully automated welding robots, an automated warehouse, advanced sandblasting and spraying installations.
Our range of products is very diverse; through years of experience and intensive contact with dealers and users we continuously attempt to improve the machines and to meet the wishes of our customers.
Last but not least we have an excellent development department that enables the development and construction of customer-specific products.
We appreciate suggestions and remarks of the end user that can lead to improvement of our product range.
Fully automated welding robot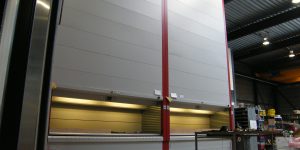 Sandblasting and spraying installation